Application

Intermediary keyboard support

Terminal keyboard support

base, cable input and base H100

base, locking rod door

Size

200 x 800 x 968 mm

273 x 800 x 750 mm

474 x 800 x 499 mm

700 x 800 x 500 mm
Combinations
Application
Size
Reference
Stock
Price
Add to cart

Application : Intermediary keyboard support
Size : 200 x 800 x 968 mm


Reference : PUP_080_CLI

Stock : 2

Intermediary keyboard support

200 x 800 x 968 mm

PUP_080_CLI

Available now

Stock : 2

€413.12 Tax excl.

- 5%




€392.46 Tax excl.

€413.12 Tax excl.
€392.46 Tax excl.
(- 5%)

Application : Terminal keyboard support
Size : 273 x 800 x 750 mm


Reference : PUP_080_CLT

Stock : 2

Terminal keyboard support

273 x 800 x 750 mm

PUP_080_CLT

Available now

Stock : 2

€384.44 Tax excl.

- 5%




€365.22 Tax excl.

€384.44 Tax excl.
€365.22 Tax excl.
(- 5%)

Application : base, cable input and base H100
Size : 700 x 800 x 500 mm


Reference : PUP_0805070_BASE

Stock : 3

base, cable input and base H100

700 x 800 x 500 mm

PUP_0805070_BASE

Available now

Stock : 3

€661.10 Tax excl.

- 5%




€628.05 Tax excl.

€661.10 Tax excl.
€628.05 Tax excl.
(- 5%)

Application : base, locking rod door
Size : 474 x 800 x 499 mm


Reference : PUP_080_CONSA

Stock : 1

base, locking rod door

474 x 800 x 499 mm

PUP_080_CONSA

Available now

Stock : 1

€402.22 Tax excl.

- 5%




€382.11 Tax excl.

€402.22 Tax excl.
€382.11 Tax excl.
(- 5%)
Characteristics:
-Structure in folded sheet metal and welded 15/10.
-Door made in sheet steel 15/10.
-Plate made in sheet steel 20/10.
-Seals in polyurethane with two components applied in cast iron.
-Rotating and reversible hinges at 110°.
-Locking system with double bar.
-Painted with a polyester powder coating RAL 7035, base RAL 7022.
-Protection: IP 55.
-Type 12.
References
Heigth(H) x Width(W)
 x Depth(D)
Supplied parts
Photos
Diagram
3D File
PUP_080_CLT
273x800x750
-Structure terminal keyboard
-Tilted door with vertical profiles and locking rod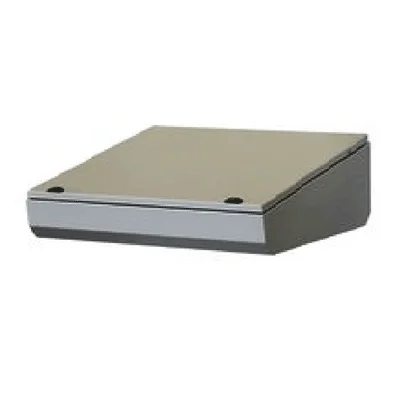 Online support
---

 Online support

Videos
---

Assemblies and projects