Connecting terminal with fuse ERF and disconnect terminal ERTD
Select your connecting terminal with fuse

EPF2

ERF2

EPF3BEIGE

ERTD3MBEIGE

ERF3MBEIGE

ERF3BEIGE

ERTD4BEIGE
Combinations
Select your connecting terminal with fuse
Reference
Stock
Price
Add to cart

Select your connecting terminal with fuse : EPF2


Reference : EPF2

Stock : 33

EPF2

EPF2

Available now

Stock : 33

€0.54 Tax excl.

- 5%




€0.51 Tax excl.

€0.54 Tax excl.
€0.51 Tax excl.
(- 5%)

Select your connecting terminal with fuse : ERF2


Reference : ERF2

Stock : 122

ERF2

ERF2

Available now

Stock : 122

€1.35 Tax excl.

- 5%




€1.28 Tax excl.

€1.35 Tax excl.
€1.28 Tax excl.
(- 5%)

Select your connecting terminal with fuse : EPF3BEIGE


Reference : EPF3BEIGE

Stock : 5

EPF3BEIGE

EPF3BEIGE

Available now

Stock : 5

€0.41 Tax excl.

- 5%




€0.39 Tax excl.

€0.41 Tax excl.
€0.39 Tax excl.
(- 5%)

Select your connecting terminal with fuse : ERTD3MBEIGE


Reference : ERTD3MBEIGE

Stock : 41

ERTD3MBEIGE

ERTD3MBEIGE

Available now

Stock : 41

€2.50 Tax excl.

- 5%




€2.38 Tax excl.

€2.50 Tax excl.
€2.38 Tax excl.
(- 5%)

Select your connecting terminal with fuse : ERF3MBEIGE


Reference : ERF3MBEIGE

Stock : 58

ERF3MBEIGE

ERF3MBEIGE

Available now

Stock : 58

€1.81 Tax excl.

- 5%




€1.72 Tax excl.

€1.81 Tax excl.
€1.72 Tax excl.
(- 5%)

Select your connecting terminal with fuse : ERF3BEIGE


Reference : ERF3BEIGE

Stock : 85

ERF3BEIGE

ERF3BEIGE

Available now

Stock : 85

€2.02 Tax excl.

- 5%




€1.92 Tax excl.

€2.02 Tax excl.
€1.92 Tax excl.
(- 5%)

Select your connecting terminal with fuse : ERTD4BEIGE


Reference : ERTD4BEIGE

Stock : 78

ERTD4BEIGE

ERTD4BEIGE

Available now

Stock : 78

€1.26 Tax excl.

- 5%




€1.20 Tax excl.

€1.26 Tax excl.
€1.20 Tax excl.
(- 5%)
Connecting and disconnecting terminal and fuse

Definition:
Connecting terminals are components and systems which ensure and secure the connection between electrical and mechanical conductors.

Characteristics:
The bar transmitting the current is in metal in order to reduce electrical loss. 

- Locking screw protected against looseness
- Screw system protecting from vibrations
- Safety fuse integrated Ø5x20 or Ø5x25; mobile fuse holder assembled on hinge made for holding a cartridge type glass fuse together with a spare one.
 
Terminal
Thickness
Strand
Description
Photo
6 mm
0.5 to 6 mm²
Disconnect terminal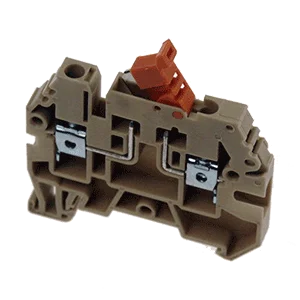 6 mm
0.5 to 6 mm²
Removable fuse terminal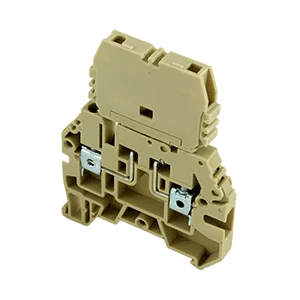 6 mm
0.5 to 6 mm²
Inged fuse terminal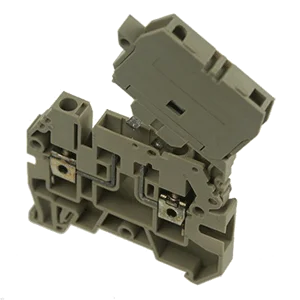 4 mm
 0.5 to 6mm²
Disconnecting terminal with fuse holder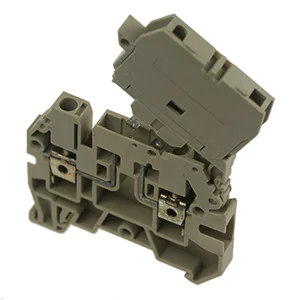 -
-
End bracket for ERTD/ERF3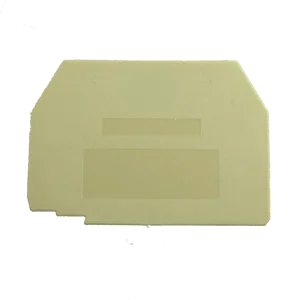 8 mm
0.5 to 10 mm²
Disconnecting fuse terminal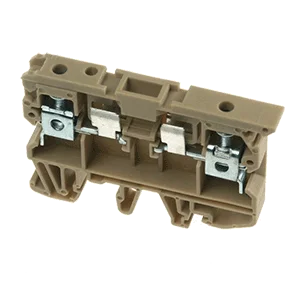 -
-
End bracket for ERF2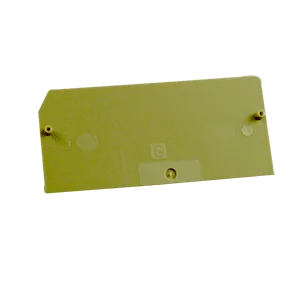 Documentation
---
 Technical datasheet

Certificates
---
Online support
---

 Online support

Videos
---

Assemblies and projects